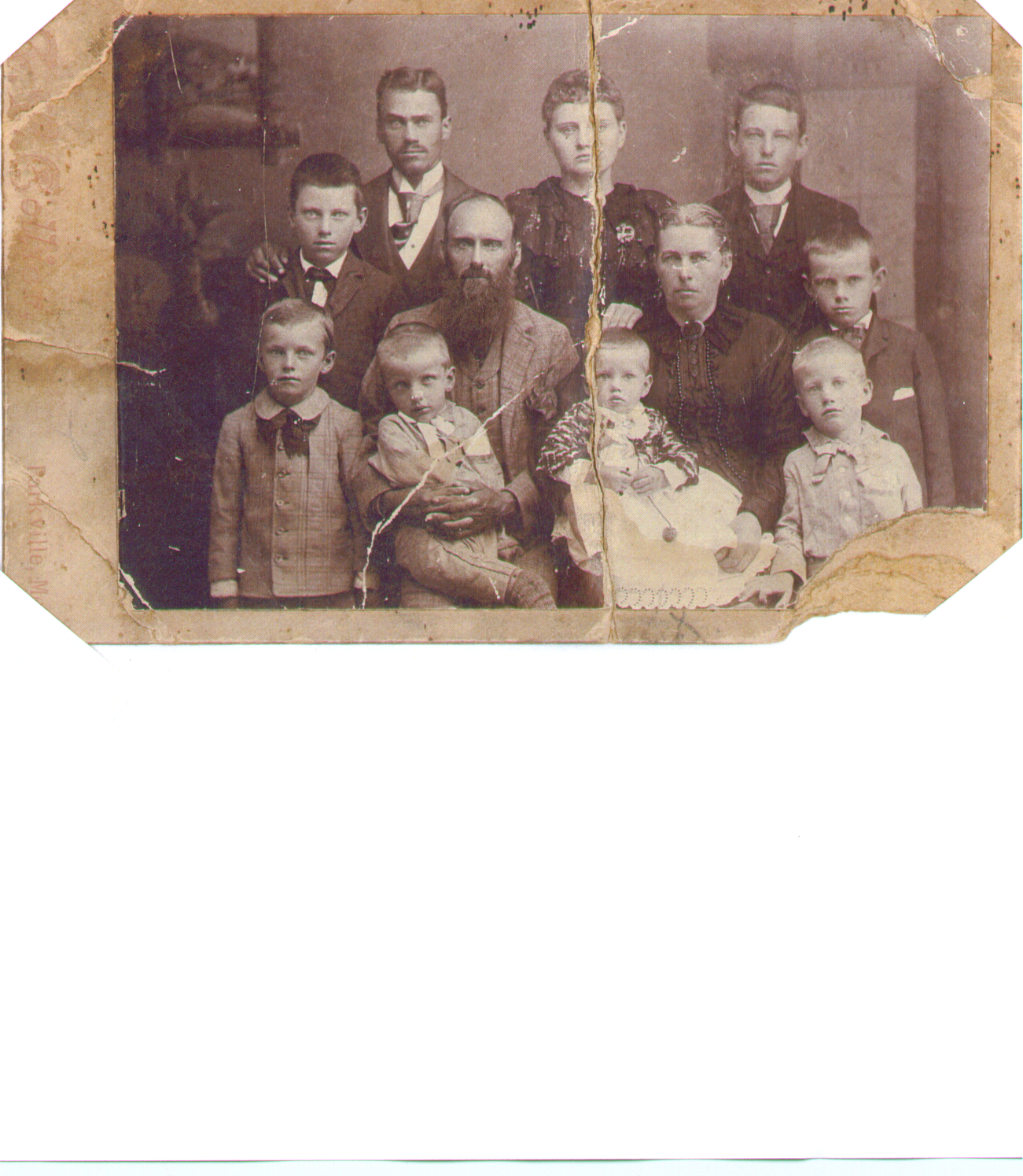 Picture of William Perry and Mary Palmer family was taken about two years before Cora McCauley arrived. Charley is at the back on the right; one son has married and is not pictured. Woman beside Charley is unknown.
Cora's Memoirs continue . . . May 1895 – September 1897 at William Perry and Mary Palmer's home:
"I never had to work hard. Whenever Saturday afternoons came, I was to bake about four pies and to cook a big pan of rice for the Sunday dinner. We always had lots of company for meals, and (they would) spend the nights too. They had so many relatives who came for Sunday dinner or came Saturday night. Sometimes entire families came. But your grandmother always fixed the other meals, except the cornbread. I would make it in a little wooden bowl with 2 eggs, 3 cups of buttermilk, and enough cornmeal to make a rather thin batter. Then poured it in a large black iron pan, greased and piping hot. When done, cut out in squares. We didn't have white bread for dinner.
"We visited a lot and went to church and Sunday School. I had a horse to ride to church. 'Course I went in the spring wagon with the family when they went, but they didn't attend Sunday School.
"We lived about two and one-half miles from school, so we rode most of the time, especially when it was muddy. When it was nice weather, we walked and cut through the fields, as it was nearer that way.
"We did not have a big house, but we would always find a place for everyone who came to stay. We had a spare bed in the "parlor," one in the hall, a trundle bed in the living room which stowed away under your grandparents bed. Tony, Claude, and Shannon slept in the trundle bed — a little narrow sofa bed in the dining room and two big beds in the boy's bedroom. My room was upstairs with the stairway up out of the living room, which was your grandparent's bedroom.
In the winter all the cousins would come at night to play tiddley winks, authors, dominoes, etc. as we did not know what playing cards were. If one of the boys had brought playing cards home, or even played with 'em somewhere, your grandparents would have been horrified and wouldn't have put up with it at all. They were a nice well-mannered bunch of boys, always obedient, and I never saw your grandparents whip but one, and that was Rufus. He 'talked back' to your grandfather, which for him was just too bad. I look back now and wonder how they managed everything so well. They were taught to be honest and truthful."