Excerpts from Cora's Memoirs about her early years — text in italics is mine.
"I was left an orphan at the early age of four years. So the following is what I can remember clearly. According to the family record, I was born on November 26, 1883 on a farm close to Midway, Missouri. My parents were George Walker and Annie Cora McCauley. Her parents were
George T. and Elizabeth Thurston.
Cora's mother died September 7, 1888. Cora also lost two younger sisters about that time — Amanda Trimble died on July 21 and Madia Amner on September 10. The cause of death was most likely an epidemic, but it's not recorded in Cora's papers.
Cora still had her father who was 27 years old when he lost his wife and two of three daughters. Why did she consider herself an "orphan"? Read on . . .
"I was left in care of my Grandmother Margaret Jane McCauley . . . my father broke up his home, and I went to live with my grandmother in her home — which consisted of her daughter, Malinda Francis, and her son, Robert Walker McCauley and also my great aunt Malinda Jones (Margaret's sister).
My grandmother had lived through the Civil War and provided for her three children. She knew how to make the most of everything she had. Her husband (Robert Walker McCauley, Cora's grandfather) was wounded in the "Battle of Gettysburg," taken prisoner, (July 1863)and died in the Federal prison at Point Lookout, Maryland (August 17, 1864).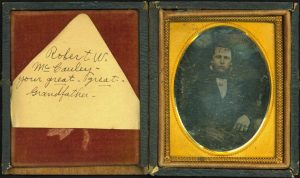 Robert W. McCauley
abt. 1835 – August 17, 1864
"My father married Salle Brooks, and my grandmother and I went to live with them (1891) When my father and stepmother started a family, I just didn't fit in. So the last of May 1894 (age 10), I went to live with my Grandfather Thurston and his family near Midway, Missouri. My Grandmother McCauley went to live with her daughter who was married; and I missed her very much. Then, one day I was at school at Midway, and my father came and said he had found a home for me with a nice family — the Crosswhite's — who lived near Hinton, Missouri (about November 1894). In May 1895, my father came over and told me he had a new home for me, as Mrs. Crosswhite couldn't keep me any longer because she was in poor health, and I would be a responsibility to her.
"So, again, I just went with my father to the home of Mr. and Mrs. Palmer — good friends and neighbors of the Crosswhite's — who were looking for a girl to live with them, as they had a big family of boys. In those days, homeless girls and boys were in demand by families who needed help. They were taken in and they were treated as one of the family, sent to school, fed, clothed, and given the same privileges as the other members of the family."